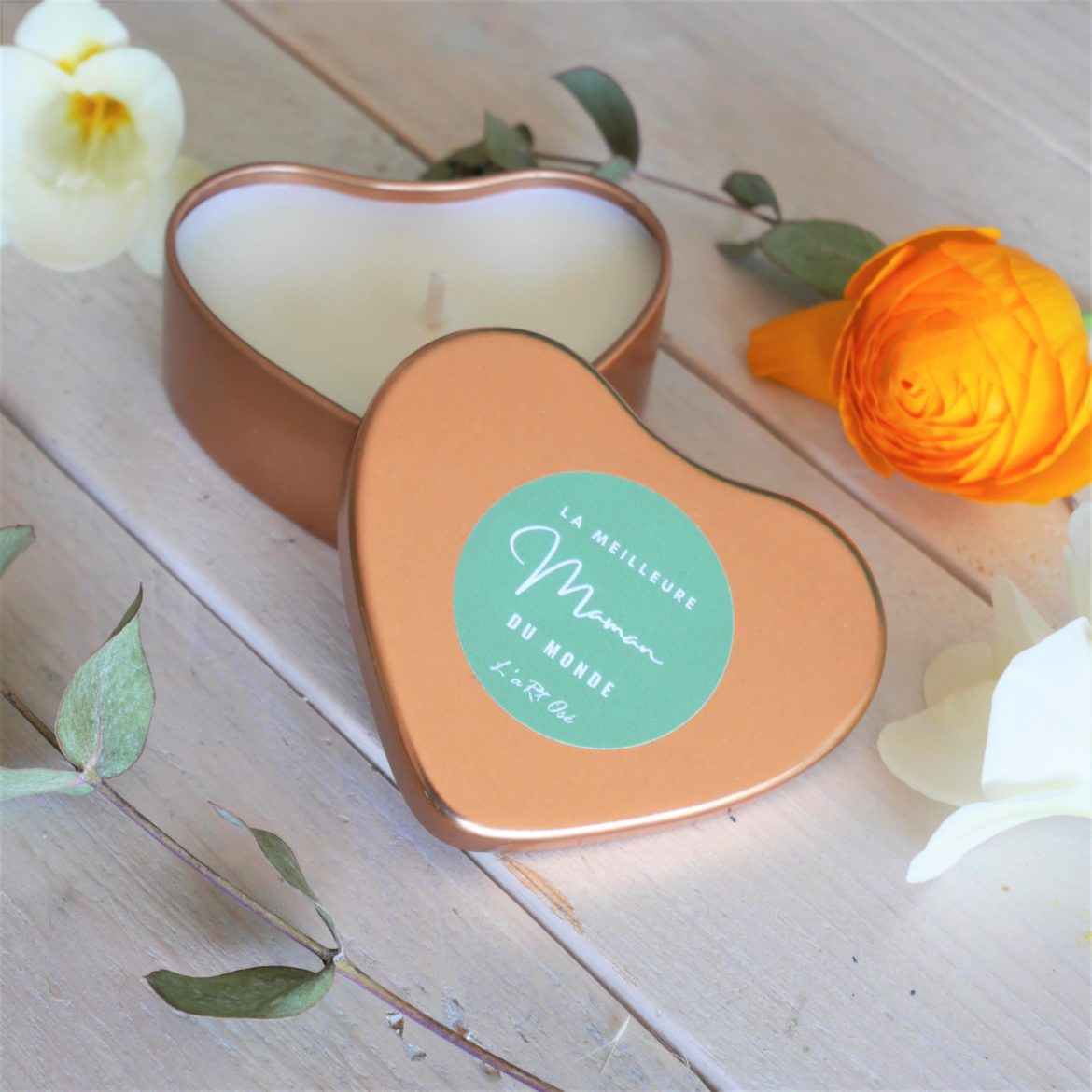 Every year you are looking for a Mother's Day gift idea for your mom who already has everything. How to find him an original gift this year ?
You can opt for a handcrafted gift like a scented candle handcrafted in France. L'art Osé offers you a wide choice of gifts to spoil your mom ! We tell you everything !
L'art Osé French scented candle
L'art Osé is a French candle brand created in 2015 by a perfume lover. Sarah is "nose" and creates its own scents. What to offer you unique fragrances to satisfy the sensitive nose of your beloved mom. Sarah is committed to providing you with Mother's Day gift ideas for all budgets. L'art Osé are scented waxes to melt on a perfume burner that allow you to enjoy 45 hours of perfume for only € 5 ! To burn those little scented waxes, L'art Osé offers a wide choice of ceramic burners, to go with all the decorations. We also have scented candles in different sizes : from the small heart-shaped candle at € 8.90 to the giant candle at € 75. The scented candles are customizable for the occasion with a special label for your darling mom ! "Happy Birthday Mom", "I love you mom", "Best Mom of the World" are for example the little messages that you can put on your candle.
A candle or a piece of jewelry ?
You hesitated between offering him a candle or a piece of jewelry ? No problem, we also create limited edition jewelry candles. A jewel candle what is it ? In fact instead of offering a candle and a piece of jewelry separately, here the jewel is hidden in the wax ! What a surprise your mom will have to discover her pretty gold or silver plated jewel ! If you cannot find the jewel candle you need on our site, do not hesitate to contact us for a personalized creation !
A perfume creation workshop in Toulouse
Sarah, shares his passion with you, during a small group workshop to create a tailor-made eau de parfum ! What could be more original than spending two hours in the company of your mother to both create your respective fragrances? ? Give him a gift card valid for one year then book a magical moment around smells. The fragrance created is based on organic alcohol, in a bottle that you can refill, because Sarah keeps your formula carefully ! You want to offer your mom not only a scent that really suits her but also a unique moment to share, this gift is made for you ! The perfume workshops are offered in downtown Toulouse, weekends from € 45 per person (vial the 30 ml) or 70 € for a bottle of 50 ml.
A mother's day gift idea
You have chosen an original and local gift for your mother ? We thank you ! You can find out L'art Osé candles on our online store and order and receive your products in just a few clicks. The payment is secure and the delivery is free in France from 20 € of order. L'art Osé is a small company from Occitanie and each creation is meticulously handmade. We know that what is precious is rare and this is the case with our candles and scented waxes. By offering L'art Osé you support a local and artisanal business. We hope to bring joy and balm to the heart within your family.