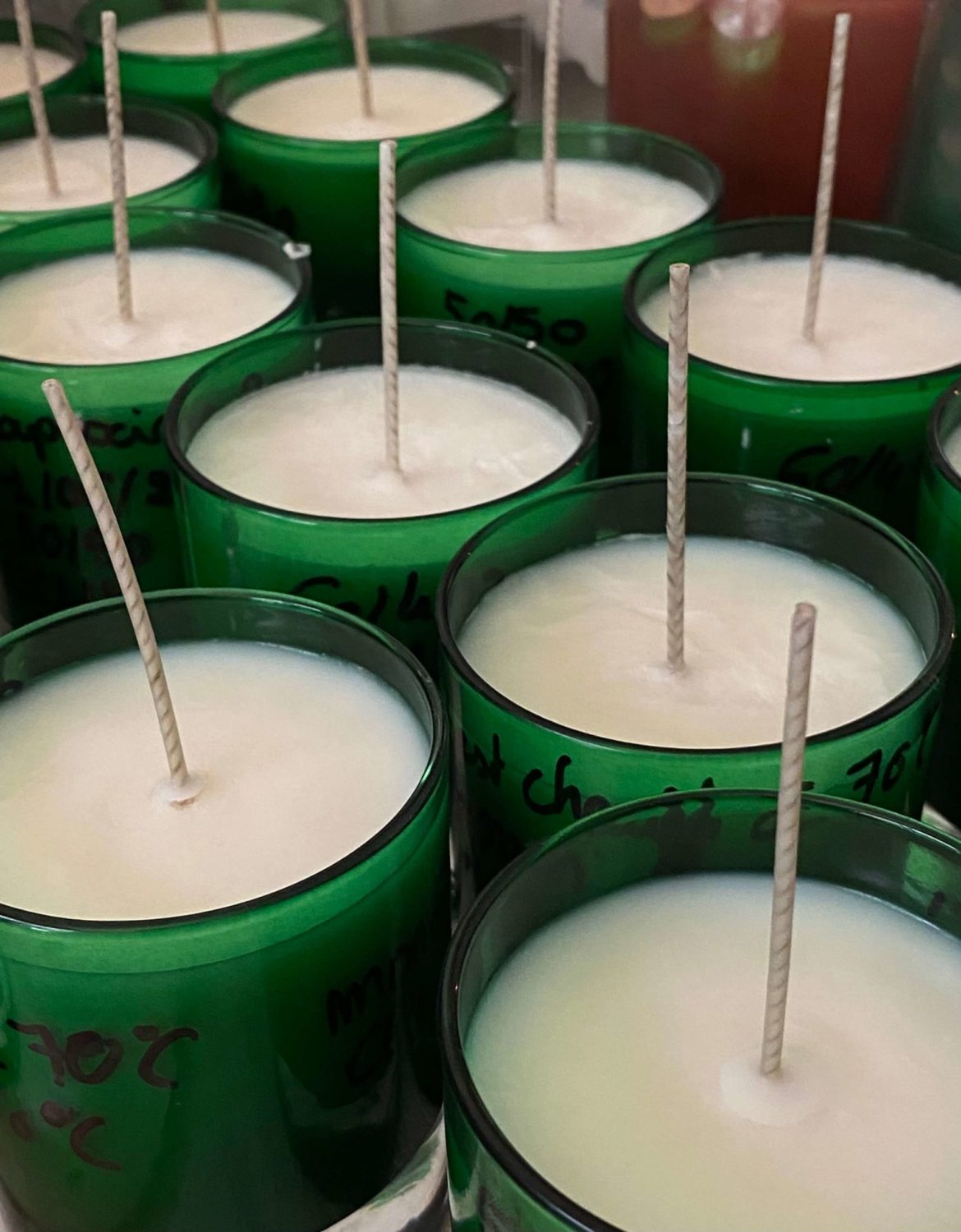 The L'art Osé brand was created in 2015 by the perfumer Sarah Grivot graduated with a master's degree in aroma and fragrance engineering. When creating the brand, we used for the creation of the candles two different types of waxes. We explain in the article, why today 2022 we are changing our products to more sustainable and ecological formulations. The formulation is a long-term job both for the wax and for the perfume.. A change of this magnitude requires hundreds of tests and hundreds of hours of work. how to make candle making 100% vegetable ?
What are the origins of L'art Osé ?
In 2015, L'art Osé was created with the aim of offering scented candles on the market with a unique scent with very high-end perfumes., little present on the market at affordable prices. When creating candles, we favored a wax with a high melting point. This means that when the temperature rises to 40°C, the candles do not become completely liquid. Living and working in the south, this criterion seemed essential to us. We also checked whether the perfume diffused well when cold and when hot.. Indeed some waxes can diffuse very well when cold and very badly when burning or vice versa.. In luxury candles often paraffin is preferred because the rendering is very smooth and very white.. In craft candles, there are mixtures of soy/paraffin wax or soy 100% military. The soy wax we used limited the scent to 6%, which was not enough to have a candle that diffuses the smell well. We therefore opted for a mixture of soy/paraffin wax. Controversies have been launched wrongly indicating that vegetable waxes were less "toxic". These fake news without any scientific evidence have done a lot of harm to candles containing paraffin. It has even been shown to be quite the opposite., paraffin burning better released fewer VOCs (Volatile organic compounds). Some brands have even created a label with their paraffin candles to indicate that they are non-toxic..
Creation of wax candles 100% vegetable : Why soy wax ?
There is therefore no health reason to turn to vegetable waxes rather than paraffin.. But are there other reasons ? Paraffin from petroleum, you may want to switch to more eco-responsible and renewable waxes. This is a much better reason to give up paraffin which nevertheless with its properties allows pretty candles with good diffusion and ease of use.. Indeed when we switch to wax 100% vegetable, everything becomes more complicated. The surface is no longer smooth, the olfactory rendering is sometimes less, sometimes better. This requires more precision in the heating temperature, flow temperature. But the most complicated thing is to find a suitable wick that allows the candle to burn correctly.. All these parameters are to be adjusted and many tests are necessary. Soy wax is certainly renewable but however questions arise as to its origin. Often produced in the United States, it comes from GMO soy and grows with pesticides and fertilizers. In addition, soybean plantations are often put in place of forests that have been burned.. Soy is therefore not necessarily an ecological resource if it does not come from Europe.
What other vegetable waxes?
New waxes have been created from plants. rapeseed wax, rapeseed comes from Europe so it is a more renewable resource. However, we did not want to work with it because the smell seemed too overwhelming.. A new wax has emerged, it's sunflower wax. Sunflower being produced in Europe, It's a good compromise. However, the properties are quite different from soy wax.. The perfume when cold comes out well but it comes out very little when burning.. This is a big negative point when you want to make scented candles. So we also found a soy wax from Europe. Even though we have no way to verify it, the supplier certifies that the soy is produced in Europe. This wax has a good olfactory rendering when hot, we decide to mix it with the sunflower wax. There are other waxes such as coconut or palm, these waxes may have very good properties but we believe that they are not more ecological than soy wax because they also contribute to deforestation.
Plant-based candles 100%
Vegetable candles yes but will they be as beautiful ? For the moment even if the olfactory rendering that we obtain is very good, there are visual issues. Even if we manage to have a smooth surface at first, after burning, while cooling, the surface produces small ungraceful craters. We are currently working very hard to solve these aesthetic problems and hope to be able to offer pretty vegetable candles soon.. We will tell you if we have succeeded in creating wax candles 100% vegetable.