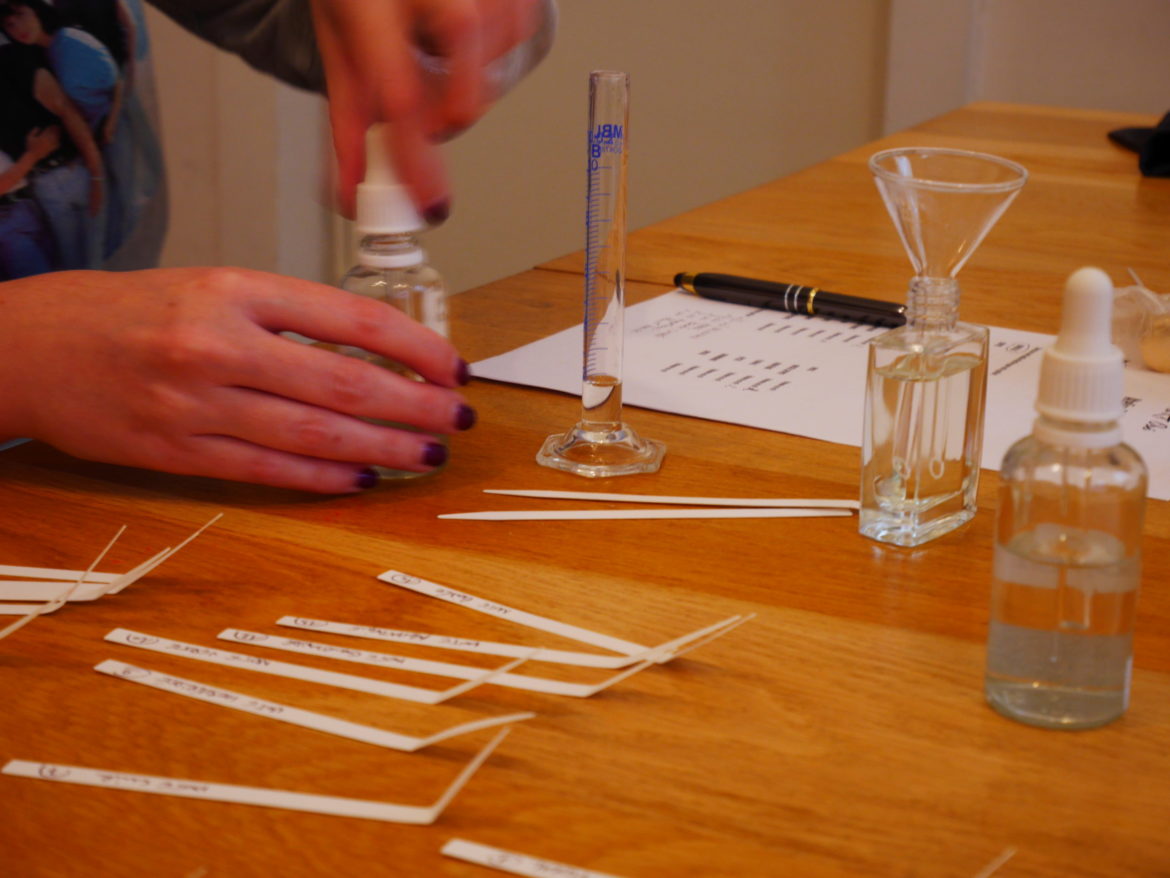 Have you always dreamed of discovering the secrets of perfumers ? Sarah the creator of L'art Osé, has been a perfumer since 7 years, she offers you during a workshop to make your perfume. But what are the steps and how to compose a perfume ? We tell you more.

Make your own perfume
A perfume is above all a reflection of our personality. Indeed, we often find some marked features in perfumes. There is a part of us in our perfume. This is why create your own fragrance, it is creating an intimate bond and discovering a little of yourself. The smells are very anchored in our memories. Often a smell will remind us of even a distant memory, whether it is good or bad. This memory will influence our perception of the smell. A perfume can also in our unconscious be linked to a person. For example, if you liked someone who had a particular scent, this scent will always be associated with that person. Likewise, a bad memory can be linked to a smell, therefore this smell will then repel us. Perfumes are all around us and we often don't pay attention to them. Land during 2 hours and focus on our sense of smell, will then reveal things forgotten and left dormant.
Odors, whether they are naturally present in nature or created fragrances added to our environment, influence and affect us. It is then difficult to navigate among these multitudes of signals which can sometimes, especially when entering a perfume store, assault us ! It is then a good idea to deconstruct, break down smells in order to really know what we like and what turns us off. During the perfume creation workshop, we invite you to discover the olfactory notes that make up the majority of perfumes. These notes like musical notes, are the starting elements to create a chord. In your perfume, there are different notes assembled and it is this assembly that makes the perfume so original.. In perfumery there are many notes, but often we can find common points and limit ourselves to a reasonable range to define almost all perfumes.
Perfume creation workshop in Toulouse
During a perfume creation workshop, you will discover these famous notes that make up a perfume. Each note has its specificity depending on the time it takes to emanate and disappear, to its power and its diffusion. It's up to you to decide which grade is most relevant to you. Often the hedonic character takes over and it is for the best because unconsciously something pushes us towards one smell and not another. There are also the "olfactory families" these are the categories of perfumes. Each perfume is classified in one to two families. There are 6. Thanks to these families, you will have a base for your perfume creation, like a common thread. For example the Oriental family will allow you to create an opulent perfume, present with body. This perfume will have a rather warm base note and you can choose to refresh it at the beginning or to give it a greedy side from the beginning.. These families will help you identify your tastes and create a consistent fragrance over time.. Indeed, if we were just mixing notes, the result would not necessarily be convincing. The olfactory family helps structure the fragrance. With the help of the perfumer, you will be able to compose your perfume and leave with it. A unique experience that is both olfactory and sensory. You will like to discover the different smells and understand how they are produced, then give yourself to the art of the perfumer to compose your unique fragrance. Your formula will be kept in order to be able to refill your bottle. So that you can perfume yourself in complete safety, no CMR substances are found in perfumes. Moreover, the bases are formulated from organic alcohol, and do not contain substances of animal origin. We offer a workshop formula at 45 € for 30 ml of perfume and a luxury formula at 70 € with a perfume of 50 ml in a pretty bottle. The perfume creation workshop takes place in the center of Toulouse, rue d'Alsace Lorraine.